Our Rottweilers are of some of the best blood lines in the WORLD. They are out of generations of the best working, champion, international champion, schutzhund, IPO, VPG, BH Rottweilers! These pups will sell for $1,500.00 if you come to pick them up. For shipping to the lower 48 sates the shipping price will have to be arranged just prior to shipping as costs change. All of my breeding Rottweilers are hip certificated either through OFA or through the country of origin, for generations!  I offer no surprises only great Rottweilers! 
This litter is Redwood Krest's Jackomo X Ola Vom Haus Norton . Any questions please contact Vern Lewis at 417-260-4705 about the Rottweiler Puppies!
Thanks
Jack Norton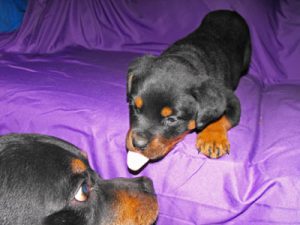 How dare you stick your tongue out at your dad!
Red Male

SOLD

 

Red Male

SOLD

 

Orange Male

SOLD

 

Orange Male

SOLD

 

Green Male

SOLD

 

Green Male

SOLD

 

Blue Male

SOLD

 

Blue Male

SOLD

 

Black Male

SOLD

 

Black Male

SOLD